RELEASE NO. 20 // BATTLE OF THE BREWS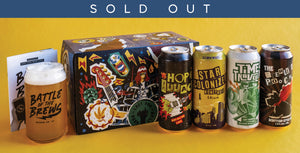 Members, get amped! We brewed this special kit to celebrate 5 years of our beer lovin' community, and we're so stoked to finally share the lineup with y'all. Let's raise a toast to all of the rad brewery friends that we've collabed with in the past five years. They have given us the opportunity to explore new styles + push the boundaries of our craft.
For this special kit, you voted for your favorite past LDBC beers. The top four have made a comeback for one release only. Craft beer and music collide to create our most insane kit yet. Brewers are all about experimenting and being unique, just like bands that thrive on authenticity, innovation and love of the craft. Join us as we come together for our love of music and beer, doing things our way and breaking free from the norm.
LDBC presents Release No. 20 // Battle of the Brews:
Brace yourself for an electrifying flavor battle with Hop Attack from Boca Raton, FL! Explosions of citrusy tones, green melon, red berries, tangerine and pineapple notes will blast you in waves. With complex hop flavors, this hardcore double IPA by Barrel of Monks Brewing hits like a killer solo.
Next, get ready to mosh! It's The Sterling Pooch – a punk rock superhero Scotty dog who fearlessly jumps into action. We bring you this edgy Scottish-style ale by the crew at Second Chance Beer Co. from San Diego, CA. With exhilarating hints of molasses, raisins and dark cherries, this ale is a head-banging, tail-wagging treat.
Give it up for Star Colonizer, presented by SLO Brew in San Luis Obispo, CA. This soft-bodied hefeweizen features riffs of banana, clove and West Coast hop bitterness. Bold hops perfectly harmonize with fresh wildflower honey, creating a brew that's sure to make your senses dance with delight.
Last, but not least, we have Time Traveler, a mind-bending Belgian-style ale crafted by the future rockstar brewers at the SIU Fermentation Science Institute in Carbondale, IL. They've shredded though time, merging medieval Belgian super yeasts with modern New Zealand Nelson Sauvin hops to create a brew that will take your taste buds ona stage dive into a whole new dimension.
We hope you enjoy the show! Be sure to share any pics + videos of your favorite brews by tagging @lazydogrestaurants #ldbeerclub. As always, we thank you for your membership and support.