RELEASE NO. 19 // ROAD WARRIORS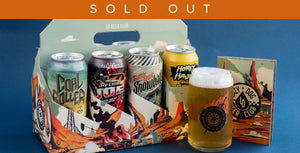 Buckle up, Beer Friend! We've challenged four rad, innovative breweries from across the country to create their most insane beers yet. Each brewery has braved a treacherous wasteland to build the ultimate "machine," and what they've come up with is probably the roughest, toughest lineup of brews we've ever seen.
But that's just the beginning. The annual underground Road Warriors Race is about to kick off, and each custom off-road vehicle invited to participate will be racing for the ultimate bragging rights. It's going to be the grittiest, wildest, most heart-pounding showcase of metal, horsepower and speed known to man. So, who will come out on top? That is for you to decide.
Here's a closer look at the race lineup for Release No. 19 // Road Warriors:
First on scene is Snowballistic, a resilient snowplow rig, dead set on defending its precious pineapple cargo. This pineapple cold IPA from Bottle Logic Brewing in Anaheim, CA, is brewed with lager yeast at colder temps for an unexpected twist on the traditional IPA. 
Next up, the team from Pollyanna Brewing Company in Lemont, IL, is prepared to smoke the competition with its jury-rigged desert traverser, Coal Roller. This deep golden, smoked Helles lager is perfectly balanced with mild bready + grainy sweetness.
Chopped up and souped up, Imperial Joe's gritty machine is ready for destruction. Designed by Calicraft Brewing Co. in Walnut Creek, CA, this imperial dark ale brewed with coffee blurs the lines between styles and showcases robust coffee notes + roasted malts.
Equipped to kick your taste buds into high gear, Honey Hauler is an off-road adventurer modeled after the fearsome honeybee. The honey-lemon farmhouse ale crafted by Living the Dream Brewing Co. in Littleton, CO, takes the classic farmhouse ale and transforms it with bold, complex tea-inspired flavors. 
Get ready for an unforgettable ride and be sure to share any pics + videos of your favorite brews on race day by tagging @lazydogrestaurants #ldbeerclub. As always, we thank you for your membership and support.
Stay thirsty,
Team LDBC