RELEASE NO. 15 // MAD SCIENCE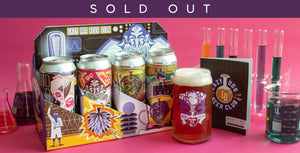 For the first time in LD Beer Club history, we've attempted something that has never been done before. Inspired by the humble beginnings and wholehearted journeys behind every great brewer, we sought out four esteemed college university brew programs to bring you this monumental release.
With the brilliant minds and mad creativity of these promising students — fueled by the love of beer, science and innovation — we give you what we consider to be an extraordinary collaboration.
Over the past year at universities across the country, the future brewers of America have been hard at work. They've been experimenting, tinkering with time, cultivating yeast, refining hop varieties and making some shocking discoveries, all with you, our incredible beer-loving members, in mind. So, without further delay, let us introduce: Release No. 15 // Mad Science!
From the deepest, darkest-brew labs of Fort Collins, CO, comes our first mouthwatering beer discovery. We give you Spark of Genius, an electric ESB infused with the illustrious leaves of Earl Grey tea. This extra-special creation by Fermentation Science & Technology students at Colorado State University is sure to invigorate your taste buds with its caramel sweetness and mild bitterness.
Up next? The way we see it, the brewing program at UC Davis has struck gold! Liquid Gold, to be exact. This California Common is a magnificent malty discovery, amber-colored to the naked eye with herbaceous-floral notes. There is obviously nothing common about this brew. A hybrid beer experiment, brewed like an ale but with lager yeast, this recipe is as innovative and unique as these budding brewers from Davis, CA.
Our third brew in this release … is … It's ALIVE! This electrifying brainchild from the brewing arts lab at the University of South Florida in St. Petersburg, FL, is sure to turn heads and awaken taste buds wherever it goes. What we have is a truly exhilarating East Coast IPA with peppery-citrus notes, thanks to the use of a single hop: the almighty Zeus hop. This medium-bodied brew lab masterpiece is one you won't be able to ignore.
Last, but not least, the Fermentation Science Institute at Southern Illinois University in Carbondale, IL, has made history! These brilliant brewers of tomorrow have tinkered with time, pairing medieval Belgian super yeasts from the 5th century with New Zealand Nelson Sauvin hops from the 21st century to bring you Time Traveler, a dry-hopped Belgian Ale. This Old-World Belgian style definitely tastes New Age.
We hope you enjoy this groundbreaking kit and make some fascinating discoveries of your own. Be sure to share your lab notes, final conclusions and any pics of your new brews by tagging 
@lazydogrestaurants
. As always, we thank you for your membership and support. Stay thirsty.