RELEASE NO. 13 // ATTACK OF THE BREWS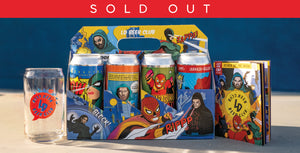 We all know superheroes use their powers to save the world, protect the public and fight off the occasional archnemesis. These beloved superhuman crusaders hold a special place in our hearts and have a variety of backstories. Some of them are born with special powers or have their biology altered, resulting in radical supernatural mutations. Others use their access to wealth and technology to create advanced performance suits and vehicles – often in some sort of subterranean top secret location. But these differences aside, if there's one thing these masked vigilantes all have in common, it's great power. And with great power comes great responsibility.


Brewmasters are kind of like superheroes in that way. They too have great power and responsibility: the power to make beer for the people and the responsibility to make it awesome. For this release, we've teamed up with some of our beer heroes, who we think are actively changing the world one beer at a time. But beware, an epic battle between good and evil is brewing, and you're about to get a taste of all the action. Inspired by superheroes that came to life in comic books of the past, we bring you an incredible lineup of new beers – beers that are worth being rescued. So without further delay, it's with great pride and excitement that we introduce …


LDBC Release No. 13 // Attack of the Brews


Hazy beers are no match for Crystal Clear! Charged by the powers of Idaho 7, Calypso and Zappa hops, our heroine uses her Pow Zappa! vision to turn any hazy into a crisp West Coast IPA. Our friends at CraftHaus Brewery from Las Vegas, NV, have created a sparkling + refreshing brew with lemon peel aromatics that will quench your super-sized thirst.


It's a bird … it's a plane … it's The Sterling Pooch – a heroic Scottie Dog who fearlessly rescues pups and gives them a second chance at a fur-ever home! We bring you a full-bodied, Scottish-style ale by the team at Second Chance Beer Co. from San Diego, CA. With notes of molasses, raisins and dark cherries, this ale is a mouthwatering treat after a long day of battling the bad guys.


El Maracuman is an epic, everyday hero and luchador fueled by maracuya (passion fruit), who fights for the freshest cervezas and saves the world from havoc. Casa Humilde from Chicago, IL, has created a tropical, light-bodied wheat ale made with the same passion fruit that gives our masked champion super strength!


Brace yourselves for a Belgian-style strong ale created by Ritual Brewing Co. in Redlands, CA. Belgian the Conqueror seeks to restore order to the brewerverse by mutating beers at the atomic level and decimating all batches that disrupt the balance. Our super villain has a mighty ABV, and it's up to you and our team of heroes to destroy him and this golden brew before they take over the universe!


We hope you enjoy your new kit, and we can't wait for you to crack open this special LDBC release. Be sure to tag us in any pics + videos of your new brews. Now fight thirst and save the world, responsibly. As always, we thank you for supporting our club!