Release No. 04 // Oddities & Curiosities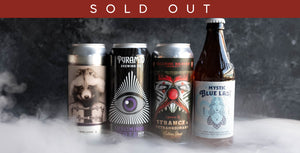 We have been working on a very special collection to complete our first year as an official beer club. Our team has always felt that the future belongs to the curious and the ones who are not afraid to try new things. And it's the very essence of these words that inspired this final beer release of 2019. But enough with the mystery ... it is with great pride and excitement that we introduce ...


LDBC Release No. 04 // ODDITIES & CURIOSITIES


Our team set out to create a collection of beers that most would consider strange. We wanted to bring you something eccentric, extraordinary and totally unexpected! And since brewing itself is relatively similar to the work of a modern-day mad scientist, we weren't surprised to find that these brewers accepted the challenge in this experimental space.


We were at Melvin Brewing's taproom when Jeremy and his team brought out a mysterious rice lager named Shape Shifter that they had been tinkering with. We loved its crisp, crushable qualities that were both familiar and surprising to the palate. We knew right away we had to share this rad creation with you.


Our friends at Belching Beaver Brewery, who, as some of you may know, make a killer stout, have brewed a real mind bender. Experience the Strange &  Extraordinary golden stout ... looks like a blonde, tastes like a stout. It's a real trip for the eyes and a delight for the taste buds.



Our next beer hails from Pyramid Brewing Co. A craft beer veteran, this brewery has been winning awards for two decades and has created a killer hazy pale ale called Subliminal State. It has all the juiciness of a Northeast IPA but is disguised as a lighter-drinking pale. Brace yourself for a real treat.



Our team loved collaborating with Ashley and Erik at Green Flash Brewing Co., tasting dozens of tea-and-beer combinations to get to the perfect beer using passion fruit and blue lady tea. The result is a tea-infused hazy IPA with a fruity aroma, aka the Mystic Blue Lady. Wait till you taste this brew.



For our Illinois folks...  Legend has it that there is a hop variety that grows multiple heads. And thanks to Bruce and his team at Tighthead Brewing Co., we can confirm that this is no myth! Enter the multiheaded Medusa  hops which his team used to brew a stupendous double IPA that we have dubbed Siamese Serpent.



And last but not least, cheers to you, our daring members. Our inaugural year as a humble beer-lover's society has been one for the books and we couldn't have done it without you. (This is the part where we play "Good Riddance (Time of Your Life)" by Green Day and drink a beer together.) And speaking of time, we are already working on the magic that will be the Q1 2020 release. Until then ...