RELEASE NO. 09 // THE GREATEST SHOW ON EARTH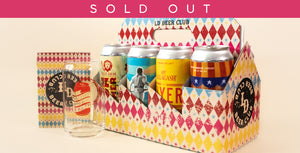 Come one, come all! From swinging trapeze artists, lions jumping through flaming hoops, clowns on stilts, to sword swallowing magic - there's so much more to the circus than what we see. Beyond the wonder is a team of performers, just like the spectacular breweries that we collaborate with for every release. These folks practice and master their craft to deliver thrilling and jaw-dropping brews for all of you to enjoy. Members, we are so grateful for another year of beer, and you're the reason the show can go on! Thank you for embracing our crazy ideas and we hope each beer in your new kit creates awe and excitement just like the acts in a circus. Welcome to…
Release No. 09 // The Greatest Show on Earth
Step right up! As you walk into the circus, there's nothing better than the sweet scent of salted caramel and buttery popcorn. Introducing Lion Tamer, a salted caramel brown ale by our friends at The Den Smokehouse & Brewery in Fresno, CA. You're in for a real treat, this beer is a perfect chocolate brown color with hints of caramel + salt.
Next, we bring you The Flyer, a thirst-defying ale brewed with turmeric from Allagash Brewing Company in Portland, ME. They've found something particularly delicious in the combination of a dry, refreshing saison with the warming and earthy spice of whole, fresh turmeric. This beer will take you to new heights, prepare yourself! Available for our CA, IL, NV + VA members.
For our third beer, we bring you Tightrope Walking – a mouthwatering india pale ale. Brewing a beer is just like a balancing act, and the team at Mumford Brewing, in Los Angeles, CA, has come up with a recipe with the right amount of sweetness + subtle bitterness. This beer has strong tropical aromatics with hints of grapefruit, orange, pineapple + mango.
What's a circus without a tent? Our last beer, from Caboose Brewing Co. in Vienna, VA, uses ingredients that complement each other, just like the range of acts under the towering, striped tent and twinkling lights. For this release, they created a rye lager called Big Top, a dark orange beer with notes of fruity berries, a rye bite, and a touch of caramel.
So sit back, pour yourself a cold one, and enjoy the show. Be sure to tag us in any pics you take of these brews. Our team loves to see them out in the wild. As always, we thank you for supporting our club and we can't wait to hear what you think!