Release No. 08 // One Love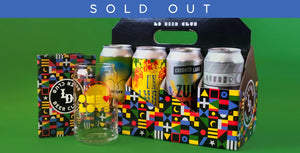 America is a melting pot for beer and variety. The innovation and choice in today's beer landscape is something we want to celebrate. And as we celebrate these beers, we reflect on the global influence, inspiration, and ingredients from all over the world that make our American beers so great. And in doing so, we asked ourselves, what is the greatest part of making and drinking beer? Beers bring us together.
Our individual love of beer is what fosters the ever-growing beer community. This is the notion that we want our LDBC Q4 kit to bring to life, and we found the right brewers to help us. Now, without further ado, introducing our next release

Release No: 08 // One Love
First up, we have Pass the Beat, a hazy IPA by our good friends at Melvin Brewing in Alpine, WY. They are known for their high-concept, high flavor beers, and they've created a full-bodied brew with refreshing notes of island fruit like pineapples and coconuts.

Next, we bring you Zum Wohl, an altbier brewed by Crooked Lane Brewing Co in Auburn, CA. We are so stoked to be working with a team committed to creating authentic beer styles, and this German-style brown ale doesn't disappoint. All the hops used in this beer are grown in the Hallertau region of Germany which gives this brew a rich, bready taste that's perfectly balanced with hops.
Our next beer is from Tangled Roots Brewing Company based in Ottawa, IL. They use traditional brewing processes while making beer for those with an adventurous palate! For this release, they've made a Belgian-style witbier called Hope, a crisp and citrusy beer with a pink to purple hue from dried cascara. Enjoy notes of citrusy orange, rosehips, cherry and hibiscus.

Last but not least, we bring you Un Amor – a Mexican hot chocolate porter made with de-seeded ancho chiles! One thing that we really dig about Shadow Puppet Brewing in Livermore, CA is that they use uncommon ingredients to design unique flavor profiles! This beer has strong chocolate aromatics with subtle hints of chiles, vanilla beans and espresso.

Be sure to tag us in any pics you take of these brews. Our team loves to see them out in the wild. As always, we thank you for supporting our club and we can't wait to hear what you think!