Release No. 03 // Chase the Sun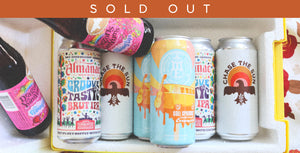 It's all happening. Summer is here + good vibes are coming your way. We are super psyched about our third kit + have created a collection of the most righteous suds - solely for your summer sipping pleasure. So, dear sisters + brothers, without further ado and with immense love + pride we give you…


LDBC Release No: 03 // CHASE THE SUN



Now, we've been following Jeremy Tofte, brewmaster at Melvin Brewing, since he was makin' beer in the back of a little Thai restaurant in Wyoming. And you've probably heard, in the past few years, their team has been rakin' in gold medals at some of the most prestigious competitions in the US. So, you can imagine how stoked we were when they wanted to create a brand-new Lazy Dog beer. We bring you summer's finest, Chase the Sun Shandy. It's not too sweet + totally crushable with lots of lemon essence. Think light, crisp + utterly thirst-quenching, like summertime in a can.

Next, our buddies at Almanac Brewing from Northern California are back for another round! Their team has been a blast to collaborate with + this time was no different. Introducing, their most radical can yet, Groovetastic – a brut IPA that's hoppy, dry, bright + totally effervescent. Like a dance party for your taste buds.

Numero three to join the party are some new friends of ours…the one + only Mother Earth Brew Co! This awesome (+ radically experimental) brew team came together to create a play on their popular cream ale. We can't wait for you to get a sip of their insane Cali Creamin' Vanilla Cream Ale Creamsicle creation! It's like a trip to the ice cream truck…but with beer. It's everything we never knew we always wanted.

[Feel free to pop open a beer if you haven't already – we'll wait.]

Last, but not least, we bring a magical collaboration, a tropical pale ale, that was made with half creative brewing + half inspired music…say hello to Dragons & YumYums!!!! These bottles are the love child of Dogfish Head Brewery + rock band, the Flaming Lips. Match made in heaven? We think so.