Release No. 07 // The Art of Beer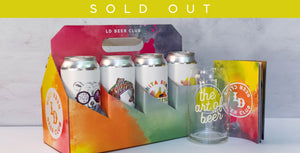 Just like creating a new piece of art, brewing beer has a process. While an artist mixes paint and mediums, a brewer blends four core ingredients - hops, grain, yeast, and water – while taking welcomed creative liberties to create something unique. We think of each can as a blank canvas, inside and out, carefully thinking through each detail of what will become the final product. This creative process is a fundamental part of what we do here - endless brainstorms, mood boards, sketches, and recipe testing. LD Beer Club was built on creativity, so dreaming and experimenting are essential components of our process and a big part of how we approach our goal of providing new releases that feel special and are enjoyable for our members.



Release No: 07 // The Art of Beer, is close to our hearts. It was around this time two years ago, we started our club and we thought, what better way to honor that anniversary than with a celebration around favorite Lazy Dog beers. We've canned our popular house beers - Huckleberry Haze and Whoa Nellie Mexican-style lager - and are adding two new recipes to the mix. Brewed by our friends at Melvin Brewing in Alpine, WY, we are thrilled to be partnering with their brew team, who not only share roots in Wyoming but share the same commitment to innovation and quality that we do.


First up, we have Huckleberry Haze, an IPA known for its refreshing notes of huckleberry, tropical fruit, citrus, and strawberry. We can't can this stuff fast enough. (If you don't know, soon you'll know.)



Next, we bring you a Mexican-style lager. Bright and clean, Whoa Nellie is brewed with flaked corn and lightly hopped, making it the perfect beer for those hot, dog days of summer.



Followed by the official debut of Old Pal white ale, inspired by the great American pastime of catch & release – it's familiar yet exciting with a light straw color, cut with stark white foam, for a clean, crisp finish.



Last but not least, we bring you Bonita, Bonita – a mountain pale ale with hops that lend tropical fruit aromatics, subtle orange notes, and hints of honey and pine. This mouthwatering beautiful brew is all wrapped up in a mildly sweet and light bitter finish - so good, we say it twice.


Cheers to another year of amazing beers. We thank you for supporting our club and we can't wait to hear what you think!