Release No. 06 // This Must Be the Place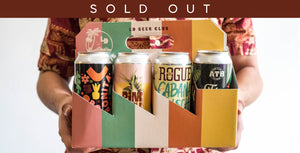 How nice does an island getaway sound right now? None of us could have imagined how appropriate this paradise inspired release was going to be. It's been a weird year so far folks – we're not gonna sugarcoat it. But if there's one thing that is getting us through this wild ride called 2020, it's the luxury of enjoying a good beer. So go ahead and close your eyes (after reading this) and listen for the sound of waves breaking on a white sandy beach…feel the warmth of the sun on your skin, smell the salty air. Now walk along the turquoise water, just ahead is a beach cabana, shaded by a tall palm tree. Inside of it you find a cooler of cold beer and a surfboard, you know, just the essentials. As you crack open a cold beer, you feel the ocean breeze on your neck, you gaze out and it's just barrel after barrel out there. Cue the uke, because this must be the place.
LDBC Release No: 06 // THIS MUST BE THE PLACE
First on deck we bring you, Bonita, Bonita - a collab brewed by our buddies at Melvin Brewing. They are known for high-concept, high-flavor beers, and they've created a juicebox of tropical flavors in this mountain-style pale ale – brace yourself for nose-nuzzling aromatics and massive amounts of Mosaic + Citra hops.
Boundaries are made to be broken, and that's the mindset behind Free Rise, a hazy pale ale created by Around the Bend Beer Company. The secret ingredient is Kveik, a beer yeast that spent hundreds of years preparing for its newfound status as an overnight sensation. The cool thing about this yeast from Norway is that it doesn't require any temperature control — allowing brewers to let the tank free rise as it warms. This gives our tiny yeast compatriots extra time to hang loose and develop tropical fruit flavors.
One thing we really dig about Rogue Ales is that they have honeybees, who worked overtime (and have the tiny timecards to prove it!) to create the honey used in Cabana Kolsch, a German-style beer that results in a crisp style perfect for sipping in a beach cabana.
Last but not least, we give you Pineapple Raft from the dudes at Liberation Brewing Co. – made with Simcoe, Cashmere + Mosaic hops. Enjoy notes of tart pineapple, soft vanilla, coconut + passionfruit.
Hang loose friends. Relax. And be sure to tag us in any pics you take of these brews. Our team loves to see them out in the wild. Thanks, as always, for being a member of the LDBC.