Release No. 01 // Space Cadet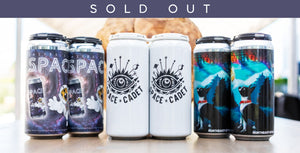 What a time to be alive...am-i-right?! Just a few months ago NASA successfully landed a probe on the surface of Mars. Today their solar-powered Juno spacecraft is in the middle of a 53-day orbit around Jupiter. And did you hear about that first test flight for SpaceX's Commercial Crew Program?! What about Virgin Galactic who has already taken deposits for almost 700 tickets to board their maiden voyage to space. Blue Origin [founded by the same dude behind Amazon], is hoping to build a rocket ship that will allow us modern day travel enthusiasts the opportunity to visit outer space ...just for the fun of it. Only 10 minutes per ride. Roundtrip.

I mean, is it just us, or does it feel like we are entering the golden age of space exploration?! These new galactic possibilities are exciting to say the least. Heck, we'll admit we've typed "adult space camp" into the search engine more than once last year. And we know we're not the only ones who stayed home from work to watch that last solar eclipse.

So, when it came time to talk about the direction for our first LDBC kit, we already had our inspiration and the answer was clear. It was our obligation to celebrate the now and the pursuit of space endeavors everywhere with a cosmic creation of our very own.
THE BEER
We'd like to give a special shout out to the brew teams who were willing to venture with us into the unknown. You may already know that Belching Beaver is well known for their stouts and imaginative flavors – and you can expect nothing less from your cans of Tastes Like Space – a chocolate, caramel milk stout. Newcomer Revision Brewing makes a stellar IPA, and so it was only right they do what they do best - our pal Jeremy and his team have created Hi Juno, a NE Style Hazy IPA for your drinking pleasure. And last, but not least, we've collaborated with Saint Archer Brewing to create a seasonal can we call, Space Cadet – a totally mouth-watering blood orange wheat that we hope your taste buds will be over the moon for.