Release No. 02 // Bushcraft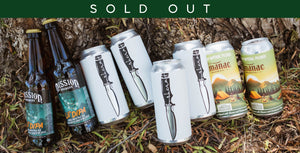 The art of wilderness survival is…well…an art. And while we don't have enough room to include everything you'd need to know to survive out in the wild, there are a few myths we'd like to set straight. You see, while doing lots of research (and beer drinking) to prepare for this kit, we came across some rather interesting information. For some of us, these discoveries made us wonder how many other childhood learnings were just plain folklore, fiction! So take a seat, crack open a cold one and prepare yourself for some advice that may just save your life…


Myth: "You can suck the venom out of a snake bite." NOPE. This actually makes things worse and could cause further infection. Besides, you wouldn't be able to suck fast enough to stop the venom from spreading through the victim's bloodstream.


Myth: "Build a fire in a cave for warmth + shelter." You guys, heat causes rock to expand…ever heard of a cave-in?


Myth: "Play dead when you are attacked by a bear." LIES! Open your jacket, spread out your arms, and start shouting. Fight. For. Your. Life.


Myth: "If lost, remember moss only grows on the north side of trees!" Lol. Moss can grow on all sides, especially near water or in the shade.


Myth: "If an animal eats it, it's safe for you to eat." Let's just say, some mushrooms are safe for squirrels and deadly if consumed by humans.


Myth: "Drinking alcohol helps keep you warm." Although you may feel warmer for a moment, alcohol actually dilates skin-surface blood vessels + capillaries, which will chill your core even faster…making you colder than before.




But hey, we're no experts on survivalism. Heck, we're not experts on a lot of things. But if there's one thing we're sure of, we're experts on what good beer tastes like. Furthermore, one could say we are experts at drinking it too. (This feels like the start of a good toast…no?) So raise a glass… because it is with great pride and profound joy we bring you Bushcraft.



This is our second collab with Nevada's own, Revision Brewing Company. Some of you may already know, these guys are known for brewing mouth-watering prominently hop-forward, world-class beers and this time around, they have blessed us with an insane American style IPA – a.k.a. Bushcraft. In addition to the Bushcraft 4-pack, we have two new brew partners featured in this kit… enter Mission Brewery out of East Village, San Diego, well-known for their smooth + malty IPA – Shipwrecked. For this release, they went back to the OG Shipwrecked recipe and added a splash of tangerine juice to create a crushable double IPA called Lil' DIPA. (mouth watering yet?!) Last but not least, we bring you Almanac Brewing out of Northern California. We love that Damian and his team are brewing "farm-to-barrel" – meaning each harvest they partner with a different local farm to supply the fruit used for their next beer. (So. Rad.) They complete your Q2 kit with two cans of Basecamp Imperial Pilsner.


For the first Illinois release, it only made sense to collaborate with local brewer, Tighthead, out of Mundelein. These guys love experimenting and have cooked up a very special IPA. Introducing: Forager.


[ for our illinois folks ]